Filter by Category
Arts & Crafts
Session II: Introduction to Chinese Ink Brush Calligraphy
with Jing Jing Luo Haven

Aug 10, 2021 at 10 am

, runs for 4 weeks
In this unique class, we will explore a variety of authentic Chinese calligraphy fundamentals and styles through hands-on and weekly practice experience, discussion and reflection. Class is open to all levels of interest and experience, and could be particularly beneficial for Chinese language learners, graphic designers, and artists who want to forge a stronger connection between typography on a screen and handwritten characters on paper. The class also covers the rich contents of Chinese ancient and contemporary cultures. This class will take place outside under a tent. Covid 19 safety protocols will follow state and school district recommendations for in-person events.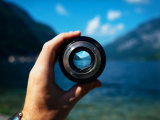 Digital Photography I
with Leah Haraden

Aug 10, 2021 at 6 pm

, runs for 4 weeks
Whether you've just purchased your first digital camera or you are an aspiring pro or semi-pro photographer, this crash course will give you the technical skills and creative inspiration to take your work to a new level. You will become more confident handling your camera and choosing settings to produce quality of images. Discussion, demos, handouts, slide shows, videos, and hands-on practice are included. Students are encouraged to study and practice on their own with optional homework assignments. Please bring a digital camera with manual exposure mode, fully-charged battery, at least one lens, tripod and an extra memory card. Class takes place on Zoom. Students must have reliable internet, and an audio and video enabled computer, tablet or smartphone to participate.
Will run
Small Looms Weave & Share Workshop
with Sharon A. Gilslider
This will be a one-day six-hour weaving workshop to enjoy your love of weaving outside under the tent. We will help you work through any weaving issues you are having, share new ideas and techniques, and examine new fibers that you may not have worked with before. Each student will spend a few minutes weaving on a group project that will stay at Merrymeeting to inspire future students. Bring your loom, fiber stash and all your questions. Covid 19 safety protocols will follow state and school district recommendations for in-person events. No discounts.