Filter by Category
Arts & Crafts
Acrylic Painting, Intermediate Session II
with Pat Casey

Jun 3, 2020 at 1 pm

, runs for 8 weeks
If you've taken a beginner's course or have some previous painting experience, this course will help you continue to explore acrylics. Begin at your own skill level and work at your own pace. Review mixing colors, choosing and preparing supports, adding texture; then on to using acrylic gels and other mediums (including mixed media art), composing a still life, and painting landscapes/seascapes from photos. Optional project: painting BIG! We encourage experimentation and expanding your painting horizons.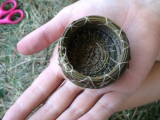 Coiled Pine Needle Baskets
with Zack Rouda

Jun 11, 2020 at 6 pm

, runs for 1 week
White pine (Maine's state flower) and Red pine are ubiquitous throughout the region and provide a vital pool of resources for human and nonhuman Mainers alike. Pine needles are beautiful, strong, and can be coiled and sewn together to make jewelry, hats, lovely usable baskets and/or adorably tiny ones. Learn to identify, regeneratively gather and harvest, properly store and process, and weave with pine needles. We'll cover the basics of coiled basketry, which is a global, ancient human skill, and create a wonderful pine- needle basket. Every participant will make a basket to take home. No required texts, books, special materials, etc. All tools and materials included. No discounts.