Filter by Category
Certificates & Training
Beginner Excel 2019
with Sarah Juenemann

Sep 20, 2021 at 6 pm

, runs for 3 weeks
In this class students learn Excel basics, entering and modifying data, navigating, moving, copying, formatting and printing. Students also learn to use formulas and functions. Come and learn tricks to make the program easier. Prerequisite: Basic computer knowledge.
Will run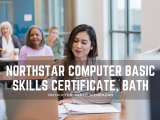 Online Registration Unavailable
Bath: Northstar Computer Basic Skills Certificates
with Sarah Juenemann

Sep 22, 2021 at 4:30 pm

, runs for 10 weeks
Please Note that the date has changed from what was printed in the calendar.  Thank you!  Want to earn certificates in a variety of basic computer skills to enhance your resume? Join this open lab to work through modules of your choice from the following list: Basic Computer, World Wide Web, Windows, Mac OS X, Using Email, Microsoft Word, Social Media, Microsoft Excel, Microsoft PowerPoint, and Information Literacy. You'll work with a computer instructor in an individualized self-paced format through the modules that match your personal career and educational goals. Free to academic students. For more information, call Pauline Hanson at 443-8255.
Online Registration Unavailable
Topsham: Northstar Computer Basic Skills Certificates
with Sarah Juenemann

Sep 23, 2021 at 4:30 pm

, runs for 10 weeks
Want to earn certificates in a variety of basic computer skills to enhance your resume? Join this open lab to work through modules of your choice from the following list: Basic Computer, World Wide Web, Windows, Mac OS X, Using Email, Microsoft Word, Social Media, Microsoft Excel, Microsoft PowerPoint, and Information Literacy. You'll work with a computer instructor in an individualized self-paced format through the modules that match your personal career and educational goals. Free to academic students. For more information, call Paul Elisha, at 729-7323. No Classes on 11/11 & 11/25