Filter by Category
Certificates & Training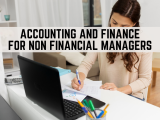 Accounting and Finance for Non Financial Managers
with Sharon DeFonteny

Jun 6, 2022

, runs for 4 weeks
Every successful person in the workplace utilizes financial information to aid effective decision making. Accounting and Finance for Non-Financial Managers explain the financial concepts and accounting processes used in most businesses and will provide practical techniques that will increase your effectiveness and career. Get a foundation to understand the seven steps in the accounting cycle and use financial information in decision making. Come away with the knowledge to analyze resource allocation and evaluate financial performance.
Bookkeeping Certificate
with Sharon DeFonteny

Jun 6, 2022

, runs for 12 weeks
How do you manage the finances of a business? Whether you are an entrepreneur, running a family business, or just looking to advance your career and add to your skill set, this Bookkeeping Certificate will provide you with the knowledge needed to measure and manage the financial health of your business. This program focuses on cash basis accounting.
No one will care more about the financial health of your business than you! It's imperative that you understand how the process works and are able to complete the accounting cycle accurately and in a timely fashion. Even if you plan to outsource your bookkeeping needs, you should still understand how the process works. No one should be clueless when it comes to the finances of their business. The Bookkeeping Certificate courses must be taken in the below order (the classes build off each other), however, courses may be taken individually at a cost of $195 each. Please call the office to register for individual courses.
Will run
Understanding Debits and Credits
with Sharon DeFonteny

Jun 6, 2022

, runs for 4 weeks
In this course, you will learn about the accounting equation and the five categories involved in every business (Assets, Liabilities, Owner's Equity, Revenue and Expenses). Every financial transaction falls into one or more of these categories. Learn how to create a chart of accounts that meet the needs of your business. You will learn how double entry bookkeeping works and the process of recording debits and credits. This course will show you how to identify, analyze and record transactions using journal entries under the cash basis accounting method.