Filter by Category
Finance & Business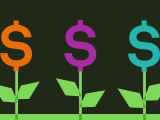 Conservative Investing
with James Nylund, CFP®

Apr 10, 2018 at 6 pm

, runs for 2 weeks
Some say the best offense is a good defense! Learn about a variety of investments that focus on conservative income including some with opportunity to grow.
Long-Term Care Insurance: Who Needs It?
with James Nylund, CFP®

Mar 22, 2018 at 6 pm

, runs for 1 week
About 7 out of 10 people over the age of 65 will require long-term care at some point. With people living longer, protecting the financial assets you spent a lifetime accumulating is critical to seeing that your retirement income plan and your estate plans are not thrown off-track. The insurance industry has introduced unique ways of protecting your assets and unburdening family members without requiring the traditional, use-it-or-lose-it model with which many of you may be familiar. No discounts.
Understanding Medicare
with Robert Harvey

Mar 15, 2018 at 6 pm

, runs for 1 week
Is it time for you to look into Medicare? This workshop will answer all of your questions. It will cover eligibility, timeline to enroll, what it covers and what it doesn't cover, additional plans that are available, and financial assistance options.
Will run