Filter by Category
Finance & Business
Online July 7: So You Want to Open an Airbnb
with Deb Arter

Jul 7, 2020 at 6 pm

, runs for 1 week
Did you know that the number of people turning to choosing Airbnb for lodging in Maine has almost doubled from two years ago? The revenue earned by Airbnb owners in Maine was roughly $40 million. If you have entertained the idea of opening up your guest bedroom or summer camp for short term rental this a class not to miss. Debra has operated River Escape for two years in Damariscotta as an active and popular Airbnb. She has also interviewed many other Airbnb or VRBO owners and put together a packet with good information, tips and actual stories of unusual events in the life of a short term landlord. Included will be issues dealing with ordinance, insurance, expectations, fees, hosting, communication, neighbors and more. No discounts.
This class will be delivered online using the Webex remote meeting platform. Students should have access to an audio and video-enabled computer with internet.
More information about accessing the class will be available prior to its start date.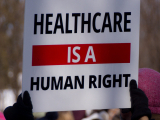 Online: Understanding Medicare
with Robert Harvey

Jul 8, 2020 at 6:30 pm

, runs for 1 week
Is it time for you to look into Medicare? This workshop will answer all of your questions. It will cover eligibility, timeline to enroll, what it covers and what it doesn't cover, additional plans that are available, and financial assistance options. Have paper and pens to take notes.
This class is offered through video conferencing and/or pre-recorded video, or a combination of the two. Students must have an audio and video enabled computer, tablet or smartphone to participate. Merrymeeting will send you information about accessing the class prior to its start date.