Filter by Category
Health & Wellness
Dance Kick Boxing
with Tony's Dance Studio

Jul 2, 2019 at 6:15 pm

, runs for 5 weeks
This is a group dance fitness class that combines martial arts techniques with fast-paced cardio. This high-energy workout builds stamina, improves coordination and flexibility, and burns calories as you build lean muscle!
Discover Your Movement through Nia
with Erin Curren, Nia Black Belt

Jul 23, 2019 at 5:30 pm

, runs for 6 weeks
Nia is an exhilarating barefoot fusion fitness class that draws from the Martial Arts, Dance, and Healing Arts. Have fun in class while getting a great workout that is easy on the joints (non-impact) and connects you to your awareness in motion. Students will learn to personalize the five sensations of fitness while exploring new movement patterns, and will leave you feeling energized and grounded in the present moment, loving the gift of the body!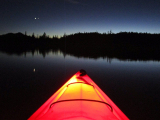 Sunset/Moonrise Paddle
with Seaspray

Jul 13, 2019 at 6:30 pm
End your week with a memorable evening on the water! Join Professional Guides from Sea Spray Kayaking as we paddle into Thomas Bay while the sun is setting and the moon is rising! We will start and finish off the sandy shores of Thomas Point Beach in Brunswick. Participants can choose a kayak or paddle board! Snacks and drinks will be provided. Park entry fee is included. Minimum age is 15. Bring: water bottle, bathing suit, headlamp (if you have one), water shoes/sandals, towel. Bathrooms and changing facilities are available at Thomas Point Beach. No Discounts.
Please indicate whether you prefer a kayak or paddle board when registering.
Will run