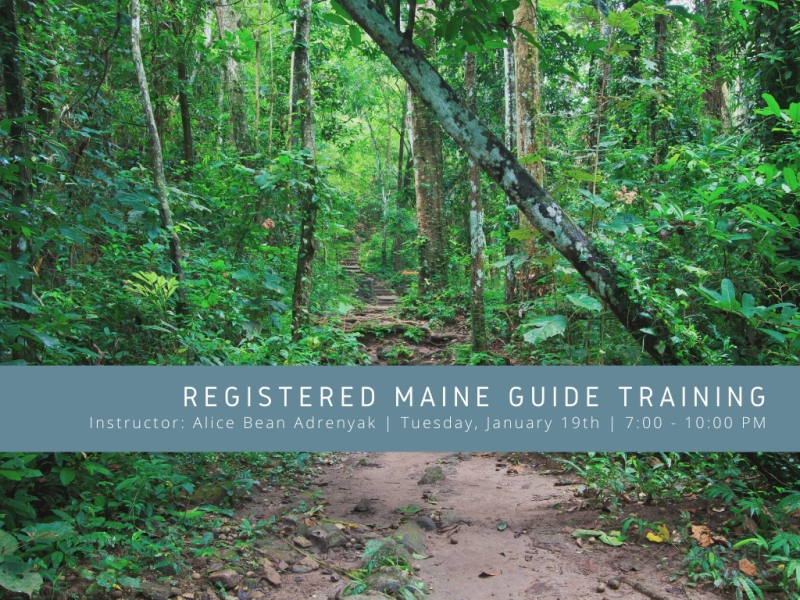 Registered Maine Guide, Blended
with Alice Bean Andrenyak, MMG
$50000
In this blended learning class, you will have an online textbook and live weekly online sessions. Focus is on learning how to guide and therefore learn or enhance what skills and knowledge you bring to the course. You will learn to be a Registered Maine Guide for the specialties of Recreation, Fishing, Hunting, Sea Kayaking, or Tidewater Fishing. You must choose one specialty to test with Maine Inland Fisheries and Wildlife.
There will be 10 three-hour online classes, 5 mini online classes, at least 35 hours of homework, and at least two optional (but highly suggested), separate-fee, all day skills workshops.
Course will not include the following also needed to test to become a Registered Maine Guide: $55 fingerprint background check, First Aid and CPR certificate, and $100/ specialty IF&W test application fee.
Students need access to a device with video capabilities, a printer, and a 2 degree baseplate compass.
Jan

19

-

Apr

6th

,

2021

Tue

for

12 weeks

from

7:00 - 10:00 pm
Online Class
For more info, call us at (207) 729-7323