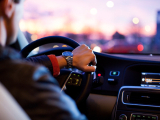 Maine Driving Dynamics, Session II
with Ron Jack

Next available session starts Dec 10, 2019 at 6 pm

, runs for 1 week
...ic elements that constantly challenge drivers on Maine's highways. The course is taught by a
certified
Maine Driving Dynamics instructor. Those completing the course receive a 3-point credit on thei...
Tradition Usui Reiki Level II
with Mary Maverick

Next available session starts Dec 7, 2019 at 9 am

, runs for 1 week
Reiki Level II is for those who have completed Reiki Level I and will sharpen your skills at directing the flow of energy and using it to aid others and pets and plants. You will receive training on u...