Filter by Category
Driver's Education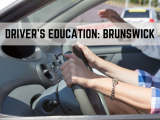 Driver's Education: Brunswick High School May
with Terry Goan

May 23, 2022 at 4:45 pm

, runs for 4 weeks
Are you 15 years of age or older and want your State of Maine permit to prepare for your driving exam? We offer driver education courses to help build strong, safe, and confident drivers. Students are awarded an instructional permit upon completing the course with a grade of 80 percent or better. If the student requires medication and has a medical condition, please contact the office or click on the link below for the required medical form. Total hours of instruction is 40; 30 in the classroom and 10 hours behind the wheel. Full payment of $495 is due at the time of registration. If a student withdraws from the course, $75 is withheld from the refund to cover program costs. Only employee discounts for this class. If you are employed by MSAD 75, RSU 1, Brunswick, or Wiscasset school departments, please call Merrymeeting to register by phone. Driver Medical Evaluation CR24 Topsham Campus
Please bring a birth certificate or passport to the first class and a pen to every class. Parents are required to attend the last half hour of the first class.  
Disclaimer: Due to the instructor's full-time job, a class may run from 5:30 pm-8:30 pm. Please always check your email. A notice will be sent out on the day of the class.
Class Times 4:45 pm - 7:45 pm
Dates:
May 23,24,25,31
June 1,6,7,8,13,14 ~ Final Exam  
Waiting List Policy: The waiting list is for the CURRENT CLASS only. If there is a cancellation before the class starts, we will email all students on the current waiting list to let them know a seat has opened up. Registration is on a first-come, first-serve basis.
The WAITING LIST is for cancellations only, we DO NOT transfer students from one waiting list to another. Please continue to check out our website for new classes and register. 
Full Course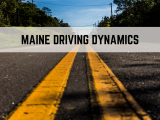 Maine Driving Dynamics
with Ron Jack

Jul 19, 2022 at 6 pm

, runs for 1 week
Maine Driving Dynamics offers drivers the opportunity to improve their defensive driving abilities. This 5-hour course includes collision avoidance techniques, safety issues, driver habits and attitudes, and the basic elements that constantly challenge drivers on Maine's highways. The course is taught by a certified Maine Driving Dynamics instructor. Those completing the course receive a 3-point credit on their driving record. Must attend both evenings. Those ages 15 to 64 pay $40 and those 65-plus pay $25. *For senior discount, please call 729-7323 to register.