Filter by Category
Languages
American Sign Language (ASL) - Level I
with Martin Samelson

Next available session starts Mar 16, 2023 at 6 pm

, runs for 6 weeks
Learn basic sign language communication, including the manual alphabet, fingerspelling, numbers, vocabulary, Deaf culture, and familiar phrases to enhance communication with Deaf and hard of hearing family, friends, co-workers, students, clients, and customers. Previous sign language experience, textbooks, and a dictionary are not required. Your instructor will supply all materials. Martin Samelson has taught ASL to college and high school students in private lessons, corporate programs, and job development with Deaf clients. ASL is a visual language, so no textbook is required. The instructor will supply all materials. Our IN-PERSON instruction will include Deaf culture, hand-shapes for the A-B-Cs and number systems, vocabulary and simple sentence structures. Each class will include time for you to practice and suggestions for at-home practice. We will NOT be using ZOOM for any portion of this class. *No class: 2/23.
Beginning Spanish
with Jean Twomey

Next available session starts Apr 5, 2023 at 6 pm

, runs for 6 weeks
***DATE CHANGE: This class was originally scheduled to run from 5/31-7/5, as stated in the print catalog. However, the instructor needed to change the dates. So instead this class will now run from 4/5-5/17.
Develop skills in grammar, pronunciation, vocabulary, spelling, and conversation in this beginner's class. Students are responsible for ordering their own book prior to the start of class. The book is "Basic Spanish" (2nd edition), by Dorothy Richmond.
No Class: 4/19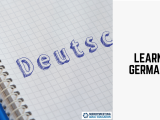 Learn German!
with To Be Determined

Next available session starts Jul 10, 2023 at 5:30 pm

, runs for 6 weeks
This summer Merrymeeting will be offering German Language classes for the first time. Class will be taught by a Bowdoin College lecturer. Register today to receive official registration details when they become available.