Filter by Category
Workforce Training & Certificates
The Sales Agent Online Class
with Center for Real Estate Studies of Maine

Current session started Sep 1, 2023 at 8 am
This 55-hour remote learning real estate agent course, approved by the Maine Real Estate Commission, is a prerequisite to taking the Pearson VUE state licensing exam. Based on the book, Introduction to a Successful Career in Maine Real Estate, by Charles "Kim" Coit, its content includes material that is basic to the practice of real estate in Maine. This class is ongoing and the student can start as soon as they register. PDF copy of book is provided, $35 for hard copy.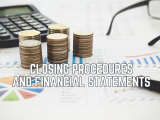 Closing Procedures and Financial Statements
with Sharon DeFonteny

Next available session starts Nov 6, 2023

, runs for 4 weeks
This course shows you how to create a worksheet used to adjust the account balances and prepare the financial statements. Use your financial statements to measure performance, make improvements and set goals. The final step covered in this course is closing your books and preparing them for the next accounting period; this is done by journalizing and posting closing entries.
Mastering Microsoft Excel
with Betsy Flanagan

Next available session starts Feb 5, 2024

, runs for 4 weeks
PLEASE NOTE:  THIS CLASS STARTS FEBRUARY 5, 2024
A must-have skill to succeed in business, whether an entrepreneur or a valued employee, is the ability to create, edit and manage spreadsheets. Microsoft Excel is the most used spreadsheet tool in the world. Stay current with this class, as it is always up-to-date and will change as the features of Excel change over time. Examine the life of an Excel worksheet and workbook, from creation to presentation. Learn how an Excel worksheet is constructed, populated with content, and edited for delivery. Master the options that can take your Excel worksheet from plain, drab numbers to exciting and engaging multimedia. You will leave class with a set of skills that are in high demand and will be a deciding factor in your future success.