Filter by Category
Fitness, Health & Wellness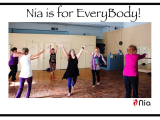 Discover Your Movement through Nia
with Erin Curren

Nov 14, 2017 at 5:30 pm
, runs for 5 weeks
Nia is an exhilarating barefoot fusion fitness class that draws from the Martial Arts, Dance, and Healing Arts. Have fun in class while getting a great workout that is easy on the joints (non-impact) and connects you to your awareness in motion. Students will learn to personalize the five sensations of fitness while exploring new movement patterns, and will leave feeling energized and grounded in the present moment, loving the gift of the body!
Partner Yoga Workshop
with Ann & Dennis Kimmage

Nov 10, 2017 at 5 pm
Come to this Partner Yoga Workshop with a mate or friend. Coming into the postures with a partner is a fun way to share the stretches and to relax from the stress of the day. Taught by yoga instructors and partners Ann and Dennis who love doing yoga together. No Discounts.
Traditional Usui Reiki Level I Certificate Training
with Mary Maverick

Jan 13, 2018 at 9 am
Be involved in your healthcare. Reiki is a simple, natural and safe method of healing and self-improvement beneficial to people, animals, plants and more and everyone can use it. Reiki connects with your own body wisdom which knows what is needed for complete healing for you and Reiki follows this protocol. Reiki also works well in conjunction with all medical or therapeutic techniques. This class will include a brief history of the art, attunement for accessing Reiki energy for self-treatment, hand positions, body scanning method, genealogy chart, introduction to chakras, hands-on clinical experience and a framed certificate. Reiki is not massage, hypnosis, a religion or a tool for diagnosing illness, but it may set you on a path of personal discovery. $175.00 Instructor Mary Maverick is a Licensed Massage Therapist and a 7th generation Reiki Master/Teacher with over 20 years in the healing arts. Class held at at Midcoast Massage & Reiki Center, 103 Harpswell Road, Brunswick. No discounts.