Filter by Category
Music & Dance
Dancing For Your Next Social Event
with Barbara McGranahan

Next available session starts Nov 1, 2023 at 6:30 pm

, runs for 6 weeks
Do you go to weddings, family and school reunions or planning a cruise and would like to participate when dancing is offered? Maybe you participated in the past and feel a bit rusty with certain dance moves? How about learning basic foxtrot, waltz, and swing (jitterbug) moves and enjoy getting your groove back. Also dance has additional benefits related to active aging such as improving posture, balance, and cognition. Come with a dance partner or solo. The summer social engagements are right around the corner. See you on the dancefloor. ***NO CLASS: 11/15 + 11/22.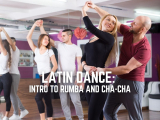 Latin Dance: Intro to Rumba and Cha-Cha
with Barbara McGranahan

Next available session starts Jan 8, 2024 at 6:30 pm

, runs for 6 weeks
Add to your Latin Dance experience with Afro-Cuban origin that became internationally popular in the last century. Rumba, the "Dance of Love" has your hips swaying and close partner connections. A popular choice for slow partner dances of both Latin and pop music. The Cha-Cha is danced to up-beat music with a Latin or Cuban beat as well as many current styles of music such as Pop and R & B. The Cha-Cha is a playful and flirtatious partner dance known for its vibrant energy. Join in fun and move your body.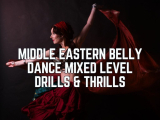 Middle Eastern Belly Dance Mixed Level Drills & Thrills
with Josephina Gasca

Next available session starts Jan 9, 2024 at 6 pm

, runs for 10 weeks
1 additional session
Authentic Belly Dance, or raks sharqi, is an ancient form of dance. Raks sharqi means "dance of the east" in Arabic. Belly dance celebrates every body type and every stage of life. The dance is proud and powerful and soft and sinewy with elegant and isolating movements emanating from the core. It's the Pilates of dance. And so much fun! This is a great refresher class for experienced dancers and suitable for dancers new to belly dance. Please wear comfortable clothing, similar to what you might wear to a yoga class that will allow for free movement and the ability to see your movement. Hip scarves make it even more fun. You can dance barefoot or in a pair of comfortable dance shoes in the studio. Zills (finger cymbals) will be used in class. Check in with the instructor before you purchase any. As an added bonus, you will also have access to a video library with instruction, drills, and ongoing choreography during the length of the session.